Posh got their season off to the perfect start with a comfortable victory over lower-league opponents, Southend, in the Capital Cup first round.
Darren Ferguson had hinted at utilising different systems and formations this season, but set-up his Posh side in the familiar fluid diamond shape. Youth products Joe Newell and Kosi Nthle were both handed starts – a pair that Darragh MacAnthony has said will play 30 times this season, if things go to plan. Michael Bostwick and Bobby Olejnik both made their debuts, whilst Lee Tomlin partnered Paul Taylor up-front.
Right from the off, Posh proved that they were playing this game with a different mentality to that they had played their friendlies, where they had been relatively uninspiring. The passing was slick, the tempo quick and the movement off-the-ball impressive.
It was clear that Posh were the classier team and their dominance in the possession stakes paid dividends within the first quarter of an hour. When Michael Bostwick received the ball mid-way into the Southend half, he hit a brilliantly weighted cross-field pass into the feet of Joe Newell who simply cushioned the ball into the box and towards George Boyd. Boyd did the rest; given too much space, he laid the ball off to Lee Tomlin who was presented the opportunity to poke home from close-range.
It could have been two moments later when the host's attacking rotation was once again too good for the Southend back-line and Paul Taylor was slotted through, but Cameron Belford, who signed today for The Shrimpers, was able to get down well and parry the ball away from danger.
It wasn't long before Taylor did get on the score-sheet, though. Picking up the ball on the half-way line he did what Paul Taylor does best: dribble. Setting off a mazy run, he beat one Southend player before getting one-on-one with the last centre back, Luke Prosser. Shifting it to one side, he accelerated past him and finished well from ten-yards to cap off a memorable solo effort.
It was a glimpse of what Taylor can do at his devastating best. Despite being relatively quiet throughout the match this one moment of individual brilliance would have been enough to catch the eye of any scouts that were watching his performance tonight.
The game was all a minute later and before the half-hour mark. Joe Newell had been impressive up until this point; linking up the play nicely and showing an impressive amount of skill on the ball, but this was the first moment which showed the class which has led to Ferguson stating he is the best prospect that the club have. After spotting Belford marginally off his line, he clipped a delicate shot over the loanee 'keeper and placed it to perfection. Off to the angle and in. Newell has been touted as the new Boyd around London Road, and whilst this may put a lot of pressure on the 19's year-olds shoulders, it was Boyd's stunner against Boston United that announced his talent to the Peterborough United faithful you get the feeling this may be the first of many moments of genius that Newell will show Posh fans.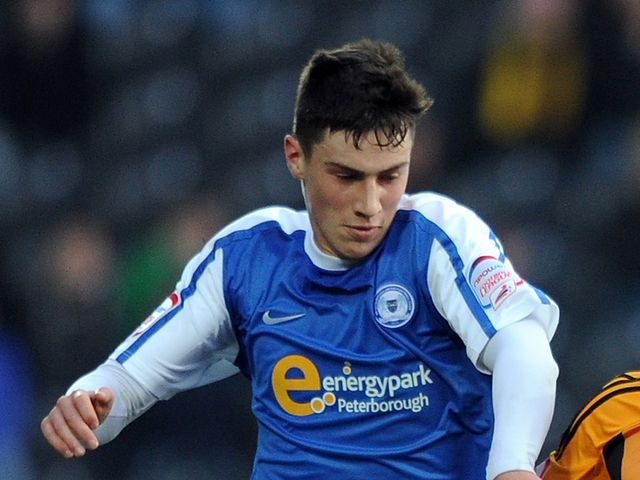 MOMENT OF CLASS: Joe Newell's spectacular strike was the first sign of the talent which has led to him being labelled as the new George Boyd.
The remaining fifteen minutes of the half were relatively uneventful, with both sides realising the game was over at this point. Posh continued to dominant possession and put together a first-half which could hardly have gone better.
Southend changed formation at half-time to a more narrow 3-4-3 and replaced Neil Harris, who limped off, with cult hero Freddy Eastwood. Paul Sturrock's tactical change paid dividends almost immediately.
A series of crosses into the box left Posh looking a little susceptible and a collection of chances presented themselves with Kane Ferdinand, playing on the left-hand side of the front-three, seeing his first headed effort hit the crossbar and the second go wide.
It proved a warning sign for Posh who quickly responded by adding to their winning margin. Lee Tomlin checked inside and rounded Mark Phillips before playing a clever reverse pass to George Boyd who tucked the ball home neatly.
Ryan Hall had been linked to a move to London Road throughout the summer and showed a glimpse of the quality that saw him bag thirteen goals from wide-midfield last season. He whipped a glorious free-kick goalwards which was unlucky to hit the crossbar and rebound back out with Bobby Olejnik, who had been untroubled so far, stranded.
Olejnik made his first meaningful save of the game when a clever free-kick saw Phillips connect with the ball within the six-yard box, but the 'keeper was well positioned and claimed the ball calmly.
The rest of the game was played out at a slow tempo: Posh were happy to rotate the squad a little with Swanson showing a burst of pace, and McCann demonstrating his ability from set-pieces, but very little else of note happened before the full-time whistle with neither side wanting to risk injury ahead of the Football League season on Saturday.
Man Of The Match: Lee Tomlin – Playing up-front, Tomlin was at the heart of everything good Posh did. Showing a range of tricks, he linked the play up well and his assist for Boyd's goal was exquisite. For Tomlin, though, his ability will always shine through against teams at this level: the question is if he can replicate performances like that consistently in the Championship?
My View
It was a comfortable win for us with Southend not really pushing us to get out of first-gear, but what we did we did very well.
It goes to show how far we have come in recent times that we got what we expected tonight. Nobody is surprised at our dominance. Six years ago Southend were in the Championship and we were in League Two.
The squad looked very adept going forward, as we usually are, and put together an accomplished performance that saw us dominate Southend with a little to spare – it is scary to think just how good we could look at 100%.
Of the two debutants Bobby Olejnik didn't have much to do, but was particularly commanding. A charge out of his area to clear the ball was met with a huge cheer which shows just how rare a sight it has been to see a goalkeeper commanding his defence at London Road. In most stadiums it would have drawn a routine clap.
Michael Bostwick, however, was hugely impressive – especially in the first-half. It is easy to brandish him simply as a defensive midfield, but whilst at Stevenage his passing-range never truly came to the fore, because of their style of football, it is being utilised here and he proved he is perfectly capable of playing the 'Grant McCann role' at the base of the diamond. He also adds a slightly more combative edge to the midfield than what the Northern Irish international does.
Ferguson tested out a 4-2-3-1 formation towards the end of the game with McCann and Bostwick taking up the holding midfield positions and it will be interesting to see whether this was a preview of the formation that he plans to use in the Leicester game at the weekend.
Whilst this was a good warm-up and the squad looked particularly impressive the real tests comes this Saturday when we travel to Leicester City. That is when we will truly be able to start to gauge where we stand against the top clubs in this division. I for one cannot wait to get started.
Up The Posh!