2011 has been a special year to be a Posh fan. 54 games, 26 wins, 209 goals and a successful playoff campaign later and we currently sit 13th in the Championship table. It has been arguably the best 12 months to ever be a Posh fan. In this blog we look back at the matches that have made this year so memorable.
10) Peterborough United 3-4 Barnsley
Two of the Championship's surprise packages this season met at London Road and served up a real cracker. Both teams prided themselves on a passing style of football and the whole game was amazingly intriguing. Barnsley raced away into a 3-0 lead after three absolutely stunning strikes, with Posh looking as if they were struggling to cope with the away side's style of football, but the game turned on its head in five crazy second half minutes. Three Peterborough United goals levelled the game up and put them in position to kick-on and win the game. However, disaster struck when Craig Davies struck his volley perfectly on the edge of the area and secured three points for his team after a thrilling encounter.
Fergie's quotes: "We've had no luck today. Most teams would have gone under after the third, but not us.
"After George got the first, for twenty minutes, we were unplayable. We annihilated them."
9) Peterborough United 6-0 Carlisle United
Ferguson's return had been going well up until this game, but this was the point that the huge improvement in the squad really shone through. Posh played a passing game that was rarely seen at League One level, and were brilliant throughout leaving Carlisle with no chance. Tommy Rowe opened the scoring after 80 seconds and it didn't stop until the last when David Ball slammed home a volley.
Fergie's quotes: "It was an excellent afternoon's work. I really enjoyed watching my team play today.
"It should have been double figures and it's no disrespect to Carlisle to say they were lucky."
8.) Oldham Athletic 0-5 Peterborough United
At the time this was pretty much a dead-rubber for a Peterborough United side whose position in the playoffs was pretty much assured when they travelled to Lancashire. Yet their performance was that of a team that was determined to prove a point. After a quiet first half, Posh were rampant in the second, slamming five past a helpless Oldham backline who could only look on in bewilderment.
Fergie's quotes: "It's a really, really top draw performance. Five goals, a clean sheet – you can't really ask for more.
"Our midfield rotated far better after half-time and I'm delighted for the lads because it was a really good performance."
7) Peterborough United 5-3 Sheffield Wednesday
Two promotion contenders met at London Road and served up an absolute belter of a match. On a cold evening it was the football that warmed the crowd up and there was certainly no danger of feeling the chill during this match. Right from the off-set it was played at a tempo and despite the away side taking the lead three times Posh battled back to score three second half goals and pick up the three points.
Fergie's quotes: "It's a great result – you want to win your home games and it puts us back in the top six.
"I don't think we have done well enough against the so called big teams before tonight."
6) Peterborough United 4-3 Cardiff City
The fixture had a rather special memory to it after Posh drew with Cardiff 4-4, despite being 4-0 down at half-time, last time they were at this level but this may have been an even better match. Cardiff were leading 3-2 as the game headed into the last five minutes but a Grant McCann penalty and injury time winner from Paul Taylor meant that they would leave London Road empty-handed and probably wish that they never had to come back from a stadium that will hold several bad memories for the Welsh side.
Fergie's quotes: "We dominated for periods and pressed really well."
"Any team who shows the character we showed tonight deserves to win and I'd have said that even if we'd lost.
"I thought we were absolutely excellent."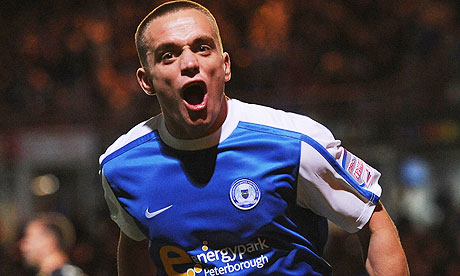 5) Peterborough United 4-4 Southampton
This game had the feel of a classic before it even kicked off. Two sides that had been famed for their attacking talent, two sides competing for promotion and two sides desperate for three points. It didn't disappoint either. It had everything. Four penalties, eight goals and even a marauding run from Kelvin Langmead. Twice Southampton had a two goal advantage, but Posh continued to fight right until the end when they rescued a point with a dramatic late penalty in-front of the Sky Sports cameras.
Fergie's quotes: "Two of the penalties were justified, but two were nonsense.
"Richard Chaplow has dived and the referee has bottled it and he should have been sent off. It was a terrible decision.
"A lot of people will see Southampton as a big club and they are a big club, but they know they've been in a game."
4) Sheffield Wednesday 1-4 Peterborough United
It was a game that, perhaps, didn't receive the attention that it should have. Going into the game the Yorkshire based club were on a terrible run of form and Posh were flying. However, the final result is still a quite historic one for Posh. Going to Sheffield Wednesday, the biggest club in the division, is always a tough game but Posh made it look easy. Right from the start they completely obliterated Wednesday with their slick passing and attacking movement, putting in one of the best performance that of the season. It was a quite incredible score-line and emphasised just how good this Posh team were.
Fergie's quotes: "I was pleased with both halves, although we put in a different type of performance after the break.
"For 20 minutes in the first half they just couldn't live with us and it's a really good result."
3) Peterborough United 7-1 Ipswich Town
Nobody could have predicted this result. Whilst Posh were predicted to be struggling at the bottom of the table, Ipswich were thought to be amongst the favourites for promotion. Yet a team filled with ex-Premier League players could not cope with Peterborough United's inexperienced side. They were too quick, too direct, too good. Despite an excellent goal from Keith Andrews giving Ipswich the lead, Posh hammered four goals in before the break and Ipswich saw Lee Martin sent off. The second-half brought little reprieve. A second red-card meant the visitors were reduced to nine and from then on it was target practice for Posh who peppered David Stockdale's goal with shots. At the end of the game Darren Ferguson's men had enjoyed 90% of possession and sent a statement to the rest of the division, live on Sky Sports, that the supposed whipping boys of the division were out to do some whipping of their own.
Fergie's quotes: "It's a great day for us and as comfortable as it could possible be.
"For twenty minutes we have just carved them open and been rewarded with four quick goals.
"Once we got the equaliser we stepped up a gear and we played some great stuff.
2) Peterborough United 2-0 MK Dons
After losing at Stadium:MK 3-2, Posh needed to show some of their famous fighting spirit to get back into this tie and make it to the playoff final. In the end, they proved in the most high pressure of situations that they could still perform. With a deafening atmosphere at London Road, Posh performed with a steely determination that left MK Dons with no chance of qualifying. They wanted promotion more than their local rivals and it showed. They were pressing quicker, working harder and threatening far more than their opposition and fed off the noise from the crowd. A Grant McCann free-kick and a Craig Mackail-Smith tap-in sent Posh off to Old Trafford and crowned the best game that London Road has seen in recent memory, if not ever.
Fergie's quotes: "Credit to my players. I'm really proud of them. They've shown what they are all about here.
"I'm delighted to be in this position, but I wouldn't have come back if I didn't feel we were going the right way as a club.
"We had pictures of Old Trafford on the dressing room for a week now. That's been the motivation. We had to go there and thankfully we are."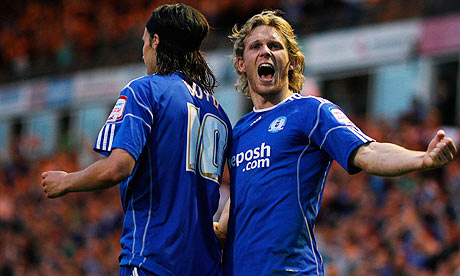 1 ) Peterborough United 3-0 Huddersfield Town
The pinnacle in high-stakes football. The play-off final for a place in the Championship. For Posh it was a chance to prove that they could compete in a division that they had struggled so badly in the season before. Standing in their way, though, was a Huddersfield side that had been machine like in their results all season. They had finished the league campaign 8 points ahead of Peterborough United and were on the back of a 27 game unbeaten streak.
Posh stood up the task though and put in their best performance of the season. After 77 evenly contested minutes, Peterborough United turned the screw with three goals in seven unforgettable minutes. Firstly, Tommy Rowe flicked in a header before Craig Mackail-Smith and Grant McCann completed the scoring and sent Peterborough back into the Championship.
The celebrations were unforgettable as the 15,000 Peterborough United fans were in delirium, whilst the Huddersfield Town fans were stunned into silence and throwing t-shirts onto the pitch in frustration at their team's late collapse.
What is noticeable is the amount of high-scoring games listed. Of course, the final two games are so special because of what they meant to us as a club, but before that we have had as many thrillers in a year as many teams do in a decade. In the ten games covered there were a total of 59 goals seen, and games such as the 3-3 draw with Bournemouth, the 3-2 victory of Derby and 4-2 win against Huddersfield did not even make the list. It has been a quite crazy year, but as a Posh fan I wouldn't want it any other way. Here's hoping that 2012 will be just as memorable.
Up The Posh!