It is a testament to Peterborough United's rise up the leagues that we are playing against West Ham United in a league fixture. The biggest club in the Championship come to town on Saturday and there is already a buzz around London Road. With a sell-out crowd expected Posh will be looking to rekindle their early season form and continue to bring some of the less regular fans wanting to come to Posh's home ground.
Unfortunately the football of late hasn't been of a style that would leave anybody wanting more. The attacking play has been virtually non-existent and the usually quick tempo passing game has looked slow and lethargic. Against the league leaders Peterborough will need to improve if they are to get anything from a game and turn their form around.
The West Ham View
We have the views of two West Ham fans in this week's preview providing you with a through look at all things to do with the Hammers. Thanks to Luke Wheeler(https://twitter.com/#!/LukeWheelerr) + Matthew Ryan (https://twitter.com/#!/ClaretNBlues) for their help.
We'll start with Sam Allardyce. Despite your league position some people don't seem too happy with him still. Obviously his style of football isn't the most aesthetically pleasing but it has always proved efficient. What is your opinion on him?
Luke: When Big Sam was announced as our new manager in the summer I thought it was a great appointment. Looking at his record with previous clubs in the past it shows that he's able to get teams higher in the football league ladder.
The whole long ball style of play that apparently Allardyce inherits into his sides doesn't bother me in all honesty. I've always viewed it as if it gets us promoted back to the Premier League then that's the main thing. A division I think we truly belong in. Okay, so quite a number of our goals this season have come from set plays but at least we take advantage of them and score from them. I don't really remember us taking advantage of set pieces last season under Avram Grant so I guess it makes a nice change. The goals we have scored from set pieces so far this season could well help us win this league. Of course though, it would be nice to score goals from open play. Apparently our second goal against Millwall, a game which I was at, was our first goal scored in open play for a long while. So I guess it would be good for us fans to see more goals from free flowing football instead.
Matthew: I think it's crazy! Every week I see at least a handful of fans calling for Sam's head, purely because they don't like him or don't like his style of play. I really like him and although he doesn't deliver football the so-called 'West Ham way' – we're winning games and the table doesn't lie.
You brought in some big names over the summer, but not all have won you over, Kevin Nolan being the best example. How happy have you been with the club's transfers – especially over January where you were also very busy?
Luke: Kevin Nolan is definitely a signing that hasn't won over the West Ham fans I can guarantee you that. He's the captain and he goes and gets himself sent off ten minutes into an important derby game. Many Hammers fans question his commitment and effort that he puts in for the team. He should be the one that should be leading his team mates out and setting an example to others on the pitch, yet it seems like he doesn't want to know. I'd like to see more from him really. We seemed to play decent football without him on Saturday funnily enough, so it'll be interesting to see how we do without him again against Peterborough.
David Bentley was a great loan signing for us I thought and he proved a great asset. Was a shame though that he got injured which then ruled him out for the season leading to him back to Spurs in the end.
Guy Demel is another summer signing I want to see more of as he has hardly played for us this season because of injury. I've always known him for being a big strong defender just like Abdoulaye Faye, who I think was a great signing. He was solid against Millwall and wasn't allowing anything to get through him which I love in a defender.
I've been impressed with Joey O'Brien also. Wasn't keen when I heard he joined but he's definitely proved me wrong and has done very well for us at right back so far this season I think.
The three signings we made on January transfer deadline day were one's I was very happy about. I was particularly happy with the signing of Nicky Maynard from Bristol City. A player who I'm very excited about watching in a West Ham shirt after seeing what he did for City over the past few seasons… Which was scoring plenty of goals!
Snapping up Ricardo Vaz Te from Barsnley was another good addition to the squad I thought. I can't remember us having some real pace and flair out on the wings for a long while so I'm hoping Vaz Te can live up to that expectation in a claret and blue shirt. He's got a very good goal scoring record so far this season as well so I'm hoping he can bang in a few to keep us top of the table.
Overall I'm very happy with the signings Big Sam has made as they are players we actually need in order to improve and become a real force.
Matthew: On the whole, I've been extremely happy with our recent transfers, none more so than the recent January signings. It's always going to be hard getting decent players to sign when you are in the lower leagues but I think our league position at the time enabled us to attract the players we did.
It would be impossible to ignore Ravel Morrison joining the club. What are your thoughts on his transfer?
Luke: Mixed feelings about Morrison joining us but to be fair to him I've heard from a good source of mine that he has a lot of potential and will be a fantastic player in years to come. I have heard about his so called bad boy attitude but I believe that Big Sam will sort him out and get him producing his best for the Hammers.
Matthew: As far as Ravel Morrison goes, I will be totally honest and say that up until January I had heard very little about him and have never seen him play.  That said, since we signed him I have heard nothing but good things so we'll have to wait and see I guess.
Do you feel West Ham can maintain their form and gain promotion this season?
Luke: I'm very confident we can keep our fairly good run of form going and achieve promotion into the Premier League. We had a blip against Ipswich last week losing 5-1 but forgot about that with a well hard thought 2-1 win over Millwall.
We need to take that win into Saturday's game against Peterborough a game in which I think could be a potential banana split! Being a West Ham fan living in Peterborough, I don't think I'd be showing my face around a lot in a hurry if we were to lose on Saturday!
After that we have two big games against Southampton and Blackpool. We simply need to defeat the Saints to give us some breathing space at the top. It most certainly won't be easy though that's for sure. Then a tough away trip to Blackpool who are stringing along some very good results at the moment. They're 3-1 win over Cardiff last weekend shows that they are well up for the fight of the Championship title. Matt Phillips for them looks a dangerous player for sure.
Like I said before though I am very confident that we'll gain promotion and better it by winning the division.
Matthew: Definitely! As I said before, we might not be playing pretty football and the luck has been on our side quite a bit but we're winning games. The recent signings, I feel can only prove to strengthen us. That combined with the fact that the teams around us seem to be faltering somewhat, I think top spot is ours for the taking.
You appear to have a lot of young prospects at the club at the minute, which one do you feel has the potential to make the biggest impact?
Luke: Robert Hall is the first player to spring to my mind. I mentioned before when talking about Vaz Te that we seemed to have lacked pace and flair out on the wings for quite a number of years and I think Hall is another one of those players that can cause trouble on the wings. I was at the Sheffield Wednesday FA Cup game and he came on as a substitute and he really got us going. Taking on defenders, cutting inside, getting shots away, he was a real handful for the Wednesday defence, so I'm quite excited about him really.
Dan Potts, the left back is another youngster I like the look of. He looks a good little player, keeping it simple and will prove as good cover for George McCartney throughout the season and beyond.
Matthew: In fairness we always have a strong academy but sadly not all the young payers go on to fulfill their potential. We have a few young payers hitting the right notes lately (Potts, Lee etc…) but the one youngster I'm excited to see nowadays is Robert Hall. I think he has a massive future in the game.
Are there any Posh players that you are particularly wary of?
Luke: Seeing as I do actually live in Peterborough I am aware of some of the players they have in their squad which could make it a difficult game for us.
Paul Taylor, who scored against Burley last week looks like he can be a handful on his day. Grant McCann I think is a very good player on the ball especially from dead ball situations as he has proved so many times from free-kicks in dangerous areas. Lee Tomlin is another player who can be dangerous but he's another for me that really needs to be on his game in order to be really effective against any opposition. George Boyd I rate highly. A player full of flair whenever I've seen him play. I've noticed he hasn't really scored that many goals this season though compared to previous seasons where he has scored a decent number of goals for his side.
Matthew: Yes! David Ball. He always seems a handfulll when I see him play. Let's hope he has a quiet game this week if he's playing.
Likely Line-Ups
Key Players
Peterborough United: Gabriel Zakuani – The centre back has been a commanding presence at the heart of the Posh defence this season and has dominated the club's "player of the month" awards. Whilst his partner, Ryan Bennett, has got his move to the big time Zakuani has never really been linked away during his time at Peterborough which surprises many. Not the most technically adept, he makes up for it in sheer determination, drive and defensive ability. It's fair to say this will be a test of just how good an out an out defender he is against Carlton Cole and he'll need to be in typically dominant form to deal with the aerial battle that is bound to be posed by Sam Allardyce's side.
West Ham United: Mark Noble – Noble is a player that promised much, but never really lived up to early expectations after bursting onto the scene at the age of 16. In the Premier League he struggled at times and despite no qualms about his work-rate, his technically ability was always in question. However, he has been revelation in the Championship and outshone his central midfield partner Kevin Nolan on many occasions. He has been a driving force for his side for much of this season with his energetic displays in the middle of the park and was the difference between the two  sides at London Road, something he will be undoubtedly looking to be again.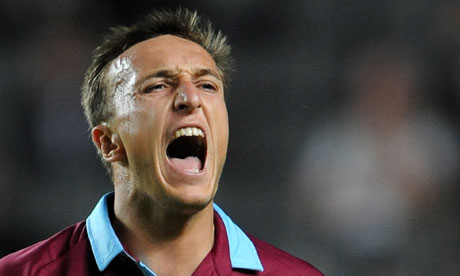 Match Odds (William Hill)
Peterborough 23/10 – Draw 9/4 – West Ham 19/20
Up The Posh!